A spring is a water resource formed when the side of a hill, a valley bottom or other excavation intersects a flowing body of groundwater at or below the local water table, below which the subsurface material is saturated with water. A spring is the result of an aquifer being filled to the point that the water overflows onto the land surface. They range in size from intermittent seeps, which flow only after much rain, to huge pools flowing hundreds of millions of gallons daily.
Still other springs are the result of pressure from an underground source in the earth, in the form of volcanic activity. The result can be water at elevated temperature such as a hot spring.
Springs are often classified by the volume of the water they discharge. The largest springs are called "first-magnitude", defined as springs that discharge water at a rate of at least 2800 liters or 100 cubic feet (2.8 m3) of water per second.
Fontaine de Vaucluse or Spring of Vaucluse in France discharges about 470 million US gallons (1,800,000 m3) of water per day at a rate of 727 cubic feet (21 m3) per second.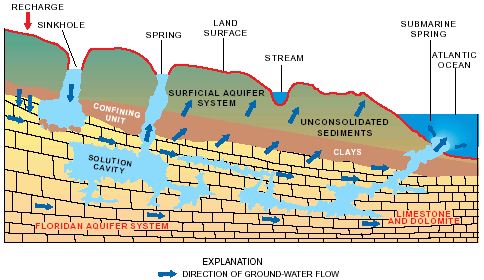 Wow. This Spring of Vaucluse makes "never thirst" sound very possible indeed.
13 Jesus answered and said to her, "Whoever drinks of this water will thirst again, 14 but whoever drinks of the water that I shall give him will never thirst. But the water that I shall give him will become in him a fountain of water springing up into everlasting life."
John 4:13-14